Earnest Eats x Unity Roasting
What goes better with superfood oatmeal than coffee?! We have paired up with our friends at Unity Coffee to create an epic superfood bundle for you to enjoy. Breakfast is now covered for the week! Enjoy your cup of craft coffee with your bowl of superfood oatmeal and make sure to grab a bar on your way out for a quick pick me up throughout the day! *We all know great things sometimes take a little longer :). Unity coffee is roasted in small batches every week, due to this there may be will be a small delay in receiving your order.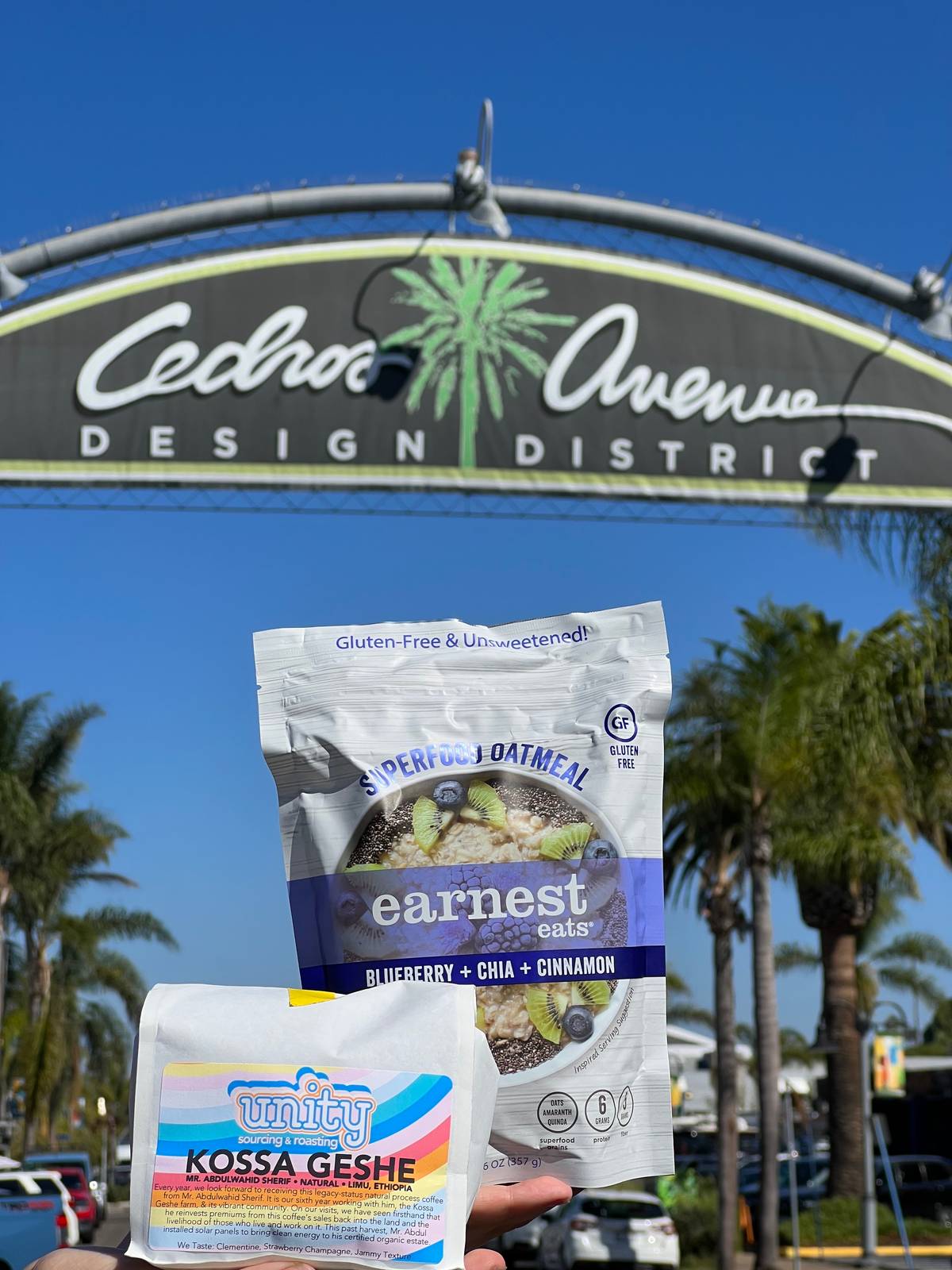 vegan

superfood oats + grains

wheat free
The perfect superfood breakfast pairing. Unity Roasting Kossa Geshe blend paired with Earnest Eats Blueberry Chia Superfood Oatmeal.
What you will be getting in this superfood bundle:
1 bag of Earnest Eats Blueberry Chia Superfood Oatmeal
1 bag of Unity Roasting & Sourcing Kossa Geshe coffee beans
1 tray of Earnest Eats Whole Oat & Almond Butter Bar YOU choose the flavor :)
Blueberry Chia Superfood Oatmeal
INGREDIENTS: Superfood Grains (Whole Grain Oats, Quinoa, Puffed Amaranth), Dried Blueberries (Blueberries, Cane Sugar, Sunflower Oil), Sunflower Seeds, Chia Seeds, Korintje Cinnamon, Sea Salt.
Whole Oat & Almond Butter Bar Options:
Chocolate Peanut Butter INGREDIENTS: Whole Rolled Oats, Natural Cane Syrup, Organic Dark Chocolate Chips, Roasted Peanuts, Brown Rice Syrup, Almond Butter, Oat Bran, Natural Chunky Peanut Butter, Raw Sunflower Seeds, Dried Cane Syrup, Natural Peanut Butter Flavor, Guar Gum, Sea Salt. CONTAINS: PEANUTS AND ALMONDS
Cranberry Lemon Zest INGREDIENTS: Whole Rolled Oats, Almond Butter, Brown Rice Syrup, Dried Cane Syrup, Dried Cranberries, Raisins, Oat Bran, Raw Sunflower Seeds, Chopped Raw Almonds, Chopped Raw Walnuts, Water, Natural Vanilla Extract, Natural Plant Gums (Guar Gum, Gum Arabic), Sea Salt, Natural Lemon Flavor. CONTAINS: ALMONDS AND WALNUTS
Almond Trail Mix INGREDIENTS: Whole Rolled Oats, Almond Butter, Brown Rice Syrup, Dried Cane Syrup, Dried Cranberries, Oat Bran, Raisins, Raw Pumpkin Seeds, Raw Sunflower Seeds, Chopped Raw Almonds, Water, Chopped Raw Walnuts, Natural Vanilla Extract, Sea Salt, Natural Almond Flavor. CONTAINS: ALMONDS AND WALNUTS
Apple Ginger INGREDIENTS: Whole Rolled Oats, Almond Butter, Brown Rice Syrup, Natural Cane Syrup, Raisins, Oat Bran, Organic Dried Apples, Raw Sunflower Seeds, Dried Cane Syrup, Chopped Raw Walnuts, Natural Vanilla Extract, Natural Apple Flavor, Spices, Sea Salt. CONTAINS: ALMONDS AND WALNUTS